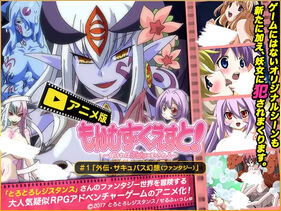 Monster Girl Quest: Succubus's Fantasy is an OVA anime based on the original Monster Girl Quest. It is animated by せるふぃっしゅ('Selfish') and was released on Jan 27, 2017. It expands the story after the events of Chapter 3 while still containing numerous H-Scenes.
Characters
Story
Episode 1 : Succubus Fantasy
Luka, a hero who saved the world continues his journey with Alice, to see the world where human and monster peacefully coexists.
One day, they got trapped in a world of 'lust seduction' by a mysterious enemy...
Episode 2 : Minagi, the great whore of Babylon
Trivia
Episode 1's price will be discounted from 1,944 Yen to 1,620 Yen during 1/27~1/30.
Gallery
Links
Ad blocker interference detected!
Wikia is a free-to-use site that makes money from advertising. We have a modified experience for viewers using ad blockers

Wikia is not accessible if you've made further modifications. Remove the custom ad blocker rule(s) and the page will load as expected.