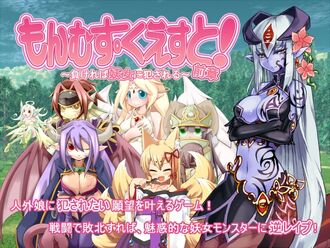 Welcome to the Monster Girl Quest Wiki!

Monster Girl Quest is an eroge series hailing from Japan which is currently being translated by Rogue Translator into an English format. The game has accrued a sizeable fanbase globally with its tales of Luka's journey to become a hero while defeating (or being defeated by) various female monsters in his world.

---

271 horas and counting!
Major edits on many articles need to be done for cleanup purposes as well as creating accurate and precise information. There are currently only a few of us active and making proper edits to the wiki. Thus, your help is greatly appreciated if you can sign up and make as many contributions as possible.
Polls
What are you looking forward to the most in Chapter 3?
Latest Blogs
Create blog post
Finally its nearly time gentlemans,our belowed ones comes back soon,lets stay strong now as chapter…

Read more >

Just saw that I was at 1233 edits, so making this small joke blog to celebrate 1234 edits. Onto the…

Read more >

Out of all of the scenarios where Luka has lost so far, which one would you say is the scariest?

Sur…

Read more >
See more >