Chapter 3 has been translated, you can find the info here.


Posting or asking for pirated download links can get you banned.

Spoiler rule has been negated, since the official English patch
is out and the chapter is already out for a long time :)
~The MGQ-wiki members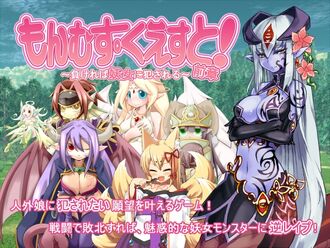 Welcome to the Monster Girl Quest Wiki!

Monster Girl Quest is an eroge series hailing from Japan which is currently being translated by Rogue Translator into an English format. The game has accrued a sizeable fanbase globally with its tales of Luka's journey to become a hero while defeating (or being defeated by) various female monsters in his world.

---

332 horas and counting!

Chapter 3 is now out but information is quite sensitive, we urge that users do not post information regarding it until the details are confirmed when the English patches are released. When the time comes we also recommend you post any "spoiler" information HERE. Please also be aware that pirated links are not tolerated on this wiki.
While this in effect, edits regarding Chapter 1 and 2 are more than welcome, but we cannot 100% guarantee that the site will be spoiler free so we urge users to take caution when navigating the wiki.
Polls
What are you looking forward to the most in Chapter 3?
Latest Blogs
Create blog post
So, I have been thinking for a few weeks if this project was doable, worth doing, if it had merit a…

Read more >

I had posted this about 8 months ago but reposting for taste.. I put lots of my own imagination int…

Read more >

Like all of you know, the final patch, the one that complete the MGQ trylogy, is finaly out...BUT r…

Read more >
See more >