Hyperdimension Girl Quest! is an ongoing Rpg game made by The_HeroLuka. It features all four of the CPU's from Hyperdimension Neptunia as well as Cecil as Luka travels the world.
Story: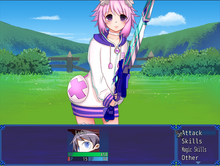 Two years after the downfall of Ilias, Luka spends his days in peace, and slight dullness as he lives out his life. With Alice traveling the world on her own, Luka is quickly met with a strange earthquake like sound coming from the nearby mountains. Armed with the sword from his previous adventure, he travels there to find out what's going on.
Download Link:
RTP Assets version;
EXE -
Mega
Google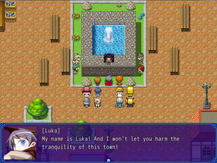 7zip - Mega
No RTP Assets version:
7zip - Mega
Gamejolt:
☀https://gamejolt.com/games/hyperdimension-girl-quest/142162
Current Progress:
A major overhaul of the entire game, plus additional content for the part 2 demo.
Changelog (As of 1/08/2018);
Added a new alternate beginning path in part 1.
Edited stats for everyone.
Changed almost all of the CG scenes.
Added story to the path where you recruit Cecil and head towards Iliasport.
Added Mercy mode.
Added a new beginning skill upgrade option that's completely optional.
Added more special options in-game.
Changed Cecil's flying sprite.
Sped up text skip.
Added crafting weapons.
New CG for White Heart fight where you get a new scene if you don't defeat any of the sisters
Fixed an error regarding the Iliasville fight
Ad blocker interference detected!
Wikia is a free-to-use site that makes money from advertising. We have a modified experience for viewers using ad blockers

Wikia is not accessible if you've made further modifications. Remove the custom ad blocker rule(s) and the page will load as expected.