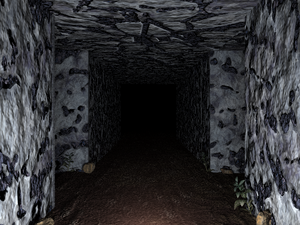 A cave said to contain Captain Selene's treasure, Treasure Cave (秘宝の洞窟 Hihou no doukutsu) is a cave to the east of Ilias Port.
Luka travels there after receiving information from Amira that the cave might contain the Poseidon Bell, a legendary item said to allow any ship to steer through the roughest of storms.
En-route there, Luka finds that the cave actually is far away from Ilias Port, such that he has to spend the night in a camp. He comments that "if I knew it would take this long, I would have spent the night in Iliasport.I thought it would only take a few hours,but we're barely halfway there."
Upon arriving in the cave, Alice shows her fear of ghosts for the first time to much comedic effect.
Pages in category "Treasure Cave"
The following 8 pages are in this category, out of 8 total.
Ad blocker interference detected!
Wikia is a free-to-use site that makes money from advertising. We have a modified experience for viewers using ad blockers

Wikia is not accessible if you've made further modifications. Remove the custom ad blocker rule(s) and the page will load as expected.