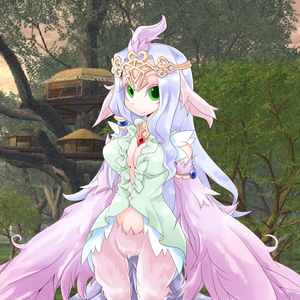 frfr is the net name of one of the artists of the Monster Girl Quest bestiary.
The bulk of frfr's work is for lead characters such as the Four Spirits and Four Heavenly Knights (barring Tamamo and Erubetie) along with the bulk of succubus and harpy enemies plus the Goblin Girl.
This puts forward frfr as one of the lead artists and most recognizable sources of in-game art for the MGQ series since Chapter 1.
The art is characterized by mostly humanoid forms with large glistening eyes, soft lines and a soft palette based on complimentary colours. Since Chapter 2, sheen effects have been added to skin and the shading has become stronger.
He has also provided Valkyrie, Cupid, Sister Lamia, and others for Chapter 3.
His Pixiv could have been found here.
Pages in category "Artist: frfr"
The following 94 pages are in this category, out of 94 total.
<

A

B

C

D

E

F

G

H

H cont.

J

L

M

N

O

P

P cont.

Q

R

S

T

U

V

W

Y
Media in category "Artist: frfr"
The following 18 files are in this category, out of 18 total.
Ad blocker interference detected!
Wikia is a free-to-use site that makes money from advertising. We have a modified experience for viewers using ad blockers

Wikia is not accessible if you've made further modifications. Remove the custom ad blocker rule(s) and the page will load as expected.